We went to Two People's Bay for a BBQ lunch Saturday just gone. We went to the picnic area and cooked up some fresh organic beef steaks and made steak sandwiches with ingredients that all came from the morning's Farmer's Market haul. The meat, the eggs, the bread, the salad… fantastic.
After lunch we went to Little Beach where there were a few other groups of people, walked across it and over the headland to Waterfall Beach which we had to ourselves.
Little Beach
We played in the waterfall stream and swam in the much warmer sea water for an hour or so before clambering up the steep path back to Little Beach and back to our car.
I'll be sure to leave my maxi dress at home next time I go to Two People's Bay, and I'll be sure to ignore Bean's assurances that we won't be going anywhere we'll need to scramble over rocks too! Getting to Waterfall Beach in a maxi dress is a bit of a challenge…
It was my first swim in the ocean this Summer season. Bean and the sprogs had already had a dip at the main beach in town the week before. It was so gloriously refreshing to dip myself in the cool, clear water of an empty beach.
We then went to the visitor centre where we learned just why Two People's Bay is so special to conservationists. There are a few species of native fauna living in the national park that were believed to be extinct, including the Gilbert's Potoroo which hadn't been recorded for over 120 years!
Once again, I felt blessed to live so near to such beautiful natural places.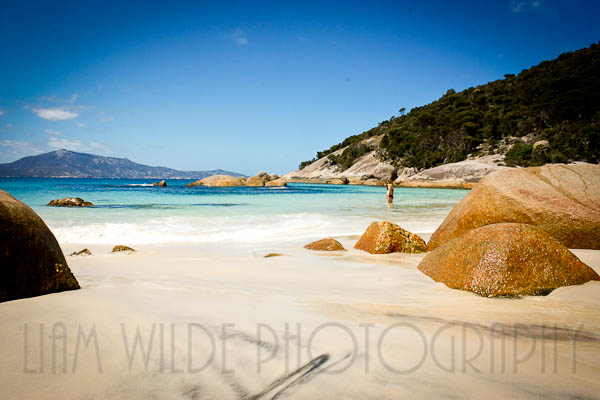 ——————————————————————————————
What do you do to switch off & reconnect with yourself & people you love?
 ——————————————————————————————