The house we're renting for our short time in Geraldton is furnished. Not one single item of furniture in the house is to my taste, but whatever hey? We're only renting it for four months and two of them have passed fairly incredibly uneventfully already.
The house comes with television. Three of them actually.
This is the first time Bean and I have ever lived in a house with television. Neither of us owned a TV when we got together so we saw no good reason to change that once we started living together. Blissfully we've lived without TV, relying on our computers to view TV shows and movies online when we wanted.
Last year, while living through a wet Winter in the tiny shed, I introduced the sprogs to Playschool. When we needed a change of mood and heading outside or to another room (we didn't have another room!) was out of the question I'd put an episode of Playschool on the computer, buying half an hour of mental space for me and entertainment for the sprogs. Before this they'd had very little exposure to screens, always at other people's homes.
Moving to a house with TV was a bit weird for us, it gave us another thing to do, but it was a thing we'd actively chosen not to do before now.
The (only) thing I love about this house is the amount of storage space. We have such a small amount of stuff here with us that we can't possibly fill all the cupboards with it so there was plenty of room to put the wall decorations* into an unused cupboard where I don't have to look at them and there was room in the same cupboard for two of the televisions also. Brilliant!
The third, and (by far) the largest television was in the loungeroom. It took up about 2.5 square metres of floor space (at least a quarter of the available floor space), the chairs all faced it and it constantly demanded attention, whether it was on or not.
We got a little sucked in to it, what with having no friends locally and being tempted by it's awesome time passing ablities.
The sprogs watched a bit of ABC for kids. It became a more dominant feature in our lives where our previous screen time experience  was all about watching an episode or two of a chosen show before continuing with other screen-less activities. The TV was turned on and they watched whatever was on. They watched TV to pass time, using it as a fast forward button on the day rather than as a tool to enjoy a specific program.
There were shows (always children's shows) which scared the sprogs and caused nightmares later on, but Sprout would always get upset if I turned the show off. Moe never really got so sucked in, if the show didn't interest him he'd walk away and find something else to do.
For Sprout though the TV became a bit like a drug. Understandably, she was (is!) bored, there's little for them to do at this house between the times we're out and she wanted to pass the time. She became aggressive and violent, particularly immediately after the TV was turned off. Her capacity to enjoy time spent doing other home based activities diminished, her desire to do anything other than watch TV diminished. She began pleading and bargaining for more TV time.
The final straw for me was when she hit Moe for standing in the way of the TV. I was worn down by all the begging, I was irritated and overstimulated by the overwhelming images flashing before our eyes, the loud noises, the silly voices – children's television is a lot brighter, louder and more intense than it was when I was a child.
That night I asked Bean to help me move the TV into one of the storage spaces and move the sprogs toys into the loungeroom.
It seemed so silly that their toys were in the sleep out, farthest from the main living area than any other room in this little shack, with no heating and flimsy fibro walls while the massive eyesore of a TV was in the heated loungeroom.
In a short time we had the TV out of sight and the toys in its place. The sprogs were delighted the following morning to wake to their toys in an already warm room.
There have been some questions about the TV, but they were answered and we've moved on. We're back to the occasional episode of Playschool or some other short children's show on the computer, with Bee Movie** showing most days while I've been sick this past week.
There are certainly times I wish we did have the TV set up so I could turn it on to a channel designed for children and have some peace myself, but the reality is that the break isn't worth the angst at the end of it, nor does it feel like a break when there's irritating TV noise in the background.
I'm glad we had the brief fling with TV, it had been so long for either Bean or myself that we'd forgotten what we didn't really like about TV before, so it was good to be reminded. It was good to see such a huge impact on Sprout's behaviour, which we were able to discuss with her and she was eventually able to recognise in herself. I'm glad we can now say we know rather than merely suspect that selective viewing, rather than turning on a TV and watching whatever is available at the time, works far better for our family.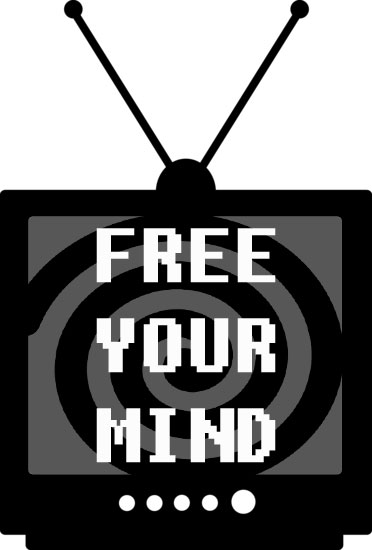 *Wall decorations that made me cringe were not to my taste.
**The only children's movie the sprogs aren't frightened by.