We had some sunshine this weekend, and our list of things to do inside the shed isn't so huge anymore, so we decided to begin our productive garden.
In the shade near the entrance I've planted some shade loving, wet loving, herbs – soapwort, self heal, peppermint and spearmint – plus a few little pansies for a bit of colour.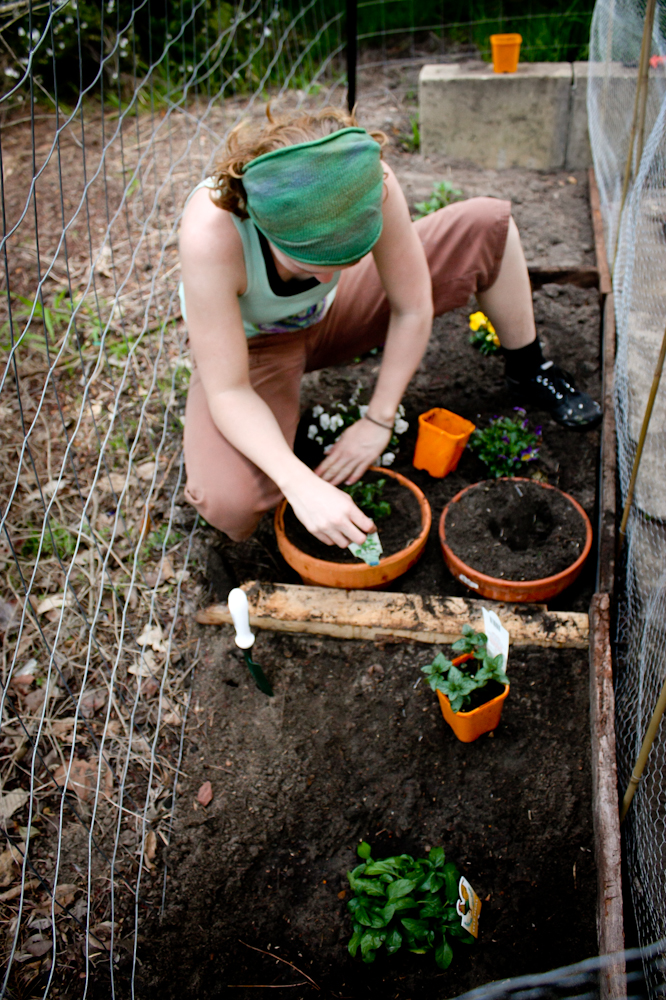 In the sunny area next to the little garden shed we removed a whole heap of rubbish that had been turfed there when the house shed was emptied out for us to begin the conversion, then we got stuck in to building a raised bed out of some scrap wood & corrugated iron. We have cut the bottom out of a couple of 60L bins & buried them half in the ground, they're our food scraps to compost converters… We planted some yarrow next to the bins & four strawberry plants in the garden bed next to the bins.
The soil here is fantastic! Full of earth worms and organic matter. Bean's parents aren't gardeners so they've neglected it for years, which is fabulous because it means there's been no chemicals used there for years!
It was lovely to make a little start on our vegie patch out in the sunshine, even if we had to stop work before we were willing because we ran out of materials. We have some more scrap corrugated iron coming soon from a workmate of Bean's, so we'll be able to build plenty more beds in that space. Stay tuned… Until then, tonight it is raining so our newly transplanted plants will be thoroughly watered in come tomorrow.
Photos by www.liamwilde.com