Well it's been nearly 3 weeks since the sprogs and I joined Bean here in Geraldton so I'd like to share some of my thoughts on the place (subject to change with time and experience of course!).
I'll get the rants out of the way first so we can end on a happy note eh?
Geraldton does not do waste well at all. There is no council recycling collection which seems so last century. We can deliver our tin and aluminium cans and our cardboard/paper to a depot but plastic and glass can't be recycled here. To that I say,
"WOW!"
We don't seem to use products in cans (other than the occasional can of tuna which Bean takes to work and doesn't cart home again) and our paper/card is added to our compost heap as the carbon component to balance out the nitrogen rich food scraps. Glass and plastic are the recyclable wastes we generate most of, and we can't recycle them here! I suppose the positive of that is that it gives us an opportunity to further reduce the packaging waste we bring in to our house in the first place. It's been rather a rude shock to be producing so much waste at all after our time in Albany where our milk bottles were returned for reuse, the mesh bags and paper bags our vegies came home from the farmer's market in were returned for reuse and our honey jars were returned for reuse as well. We produced much less household waste then.
I suppose it might take time to get to know where to buy the food we're used to eating, it did take time in Albany. The farmer's market here is a fairy average affair, especially when compared to the Albany farmer's market. They are really trying though, and I hope it takes off. There are likely a lot less fresh produce growers around here than there are around Albany, the climate here isn't the greatest for growing thirsty crops, so I imagine it'd be tough to find the selection of growers there are on the south coast. Luckily I've already found a green grocer who sells a fabulous selection of organic fruit and veg. They have agreed to take a weekly order from us and pack it all loose into cardboard boxes since they otherwise individually wrap their organic produce so they can tell the difference between it and the conventional stuff at the check out. They also stock Margaret River Organic milk (pastuerised but not homogenised) which is a reasonable compromise when raw milk is not available. Short of having our own cow or living within cooee of my dairy farming sister nothing can ever come close to the milk supply we had in Albany. Really, how can you beat reusable glass bottles filled with fresh, unprocessed milk delivered with a smile and a genuine enquiry after your wellbeing? In short, you just can't.
The weather has been quite lovely, real "holiday" weather. Yesterday it rained for the first time since we arrived and it was a really rather dismal effort at rain, more like a sprinkle really. We've been at the beach most days and at the playgrounds every day since getting here. Mornings and evenings call for long sleeves but during the day we're wearing short sleeves very comfortably, and today is the first official day of Winter. I have a strong suspicion Summer here would melt me into Ms Cranky Pants because Autumn has been about as Summery as I can handle. Thankfully we'll be out of here early Spring so I won't get to test that hypothesis.
I'm really glad for the outdoor friendly weather though because the playgrounds here are AWESOME! The best I've seen anywhere.
At the town beach there is a fabulous playground with two main sections, one aimed at younger children and one aimed at older children. The equipment over both sections caters to children ranging in age from pre-walking to teenagers. Next to the playground is a water playground that can be turned on by anyone with the press of a button between 9am-6pm each day, yeah… even now that it's officially Winter.
The sprogs have had hours of fun at the water playground already, it really is fantastic and unlike any other free playground I've seen.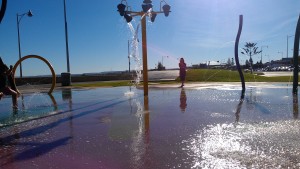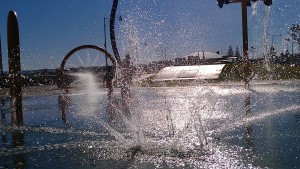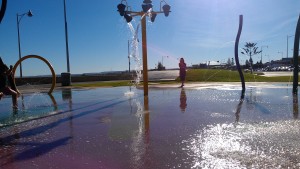 And that's just the town beach playground, the rest of the playgrounds we've seen around Geraldton have been fabulous too. The only thing that could make the parks here any better is a play in the park program like the one the wonderful Jamie (the Clown) and his YMCA crew ran in Albany.
Our house is not bad, not a place I'd want to settle for longer that the four months we plan to be here, but it's not bad. We had some issues with dirty carpets to begin with and in honestly I can't understand how on earth we're paying so much for it because it just doesn't seem worth it (totally foreign rental market up here) but it's close to the beach which I've taken advantage of a few times when I've gone for a sunset walk by the ocean all alone once Bean has come home from work. It's been nice to snatch those moments of solitude because we're back to having no friends nearby and I'm feeling a bit overwhelmed by the task of parenting the sprogs on my own for such extended hours while Bean's at work.
Thankfully a south coast friend has put us in touch with a mid west friend and I'll have to make contact now we've landed and settled, so the lonely days can be over real soon…
So far I'm liking Geraldton enough, there's a lot about it that is awesome and it's nice to have a change of scenery after a really tough year in Albany.