Van Halen, the 1970 kombi, is one of the things we desperately needed to sort out this weekend, before Bean flies out to Geraldton (not intending to return to Albany and our current house) this Wednesday.
Since we moved to this place 8 weeks ago Van Halen had been parked in the garage, with all windows but the windscreen out and the sliding and front doors off, getting a bit of attention from Bean most evenings once the sprogs were in bed. Bean was prepping Van Halen for a respray and most of the prep work was done by the time he was offered the job in Geraldton, not quite all of it, but most.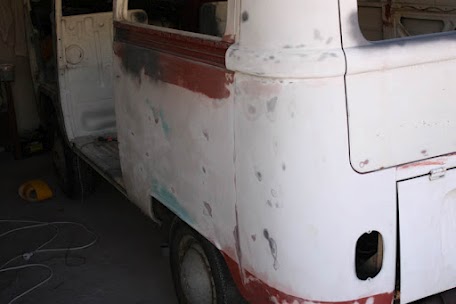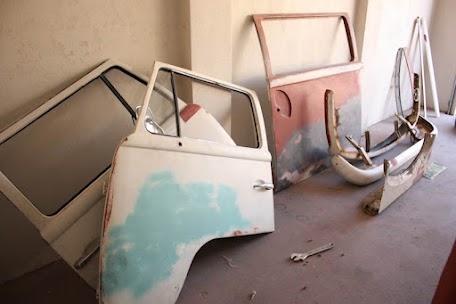 The major things that hadn't been done included:
The driver side door still needed a fair bit more work, some welding and bog.
The bumpers hadn't been touched at all and needed to be attacked with an angle grinder and some rust kill primer.
The headliner was still in, and stained from what we think was probably one of the previous owners smoking in it…
When we decided Bean would accept the contract in Geraldton and that we'd pack up house here in Albany so the rest of us could join him there we knew we'd have to cut some corners to get Van Halen back on the road and looking good enough that he wouldn't attract the unwanted attention of the fuzz. Of course, we knew that when we're not rushing to get paint on and windows in we'd go back and uncut the corners, but if we were going to get Van Halen from the state he was in to a road worthy state in less than a week we'd have to rush some things and just not do others. Ironically even before the respray Van Halen was more roadworthy than a lot of smarter looking old cars on the road because of the rust cutting and new panel work that had been done, but with a patchy paint job he would attract the attention of the cops more than he will all one colour.
We had a late night chat in the bus one night last week and decided to pull the headliner out, Liam got on to it right away and it instantly looked less crappy. We'll probably get a new headliner one of these days, but the interior roof is in great condition and headliners weren't stock on original kombis anyway so it can stay that way for now.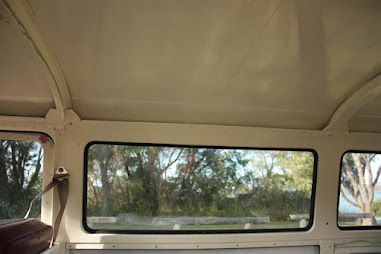 He's resprayed the whole thing, not the original shade of white because for some reason the auto store couldn't access the paint codes database (or whatever) this weekend and he worked against the clock to get it resprayed and put back together.
The original guess colour from one paint joint was really white, it was so crisp it looked like copy paper and we thought it sucked. The spray gun had a lot of overspray and looked pretty shocking even for straight off the gun. When he ran out of paint and we went to a different store to get more we opted for a more cream white and got a new spray gun too. Much better!
Bean has just spent 3 full days in the garage, early morning until very late at night. I'm pretty impressed with his efforts, it was a big ask to get it all done in a few days and he actually pulled it off.
At this stage we've decided we won't sell it, we'll hold on to it and then get Brigit's (my '71 microbus) restoration started when we're settled. She's going to get the full back to bare metal then 2pac treatment so she'll be a very long term project and frankly I don't know what I'd do with myself if I didn't have a kombi for a daily driver (maybe be a whole lot warmer in Winter?!) so makes sense to keep Van Halen for now.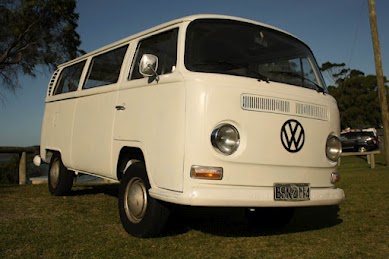 When we get some time to catch our breath Van Halen will need another coat of the same white, the doors are looking less cream and more copy paper than the rest of the body… The front will need some extra sanding and a respray, there was a rough patch that didn't show up until the white went on. There are a couple of spots of paint that have reacted with something underneath so they'll have to go back to bare metal and be repainted. We'll be replacing some non-genuine seals with genuine seals, since the non-genuines are too fat and stop the doors from sitting flush wtih the body. The windscreen will also come out for the next coat/s of paint, it stayed in this time since we didn't have the time or funds to get a new seal to put the windscreen back before Bean leaves. The tyres will come off the wheels which we'll prep and paint the same white as the body, then we'll finish them off with some nice chrome hub caps. The bumpers will need to be stripped back and properly prepped, they have just been painted as they were (rusty!)- no prep work at all. Ran out of time…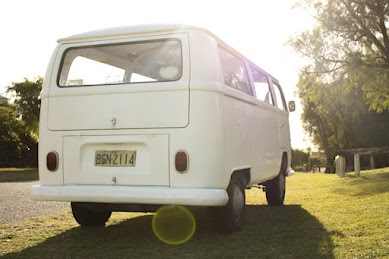 The interior, which is my job, has to wait too since we have clearly run out of time and don't have all the parts we need to install the rock and roll seat and make up new door cards. Some of the interior from Brigit has gone in to complete it since Brigit just has to go to Perth where she'll be garaged for a few months until freight time, no worries with the cops there (once we get her the 450km back to Perth that is!).
All up, Van Halen's looking much more tidy than he did and I feel confident we'll be able to drive it without hassle from the fuzz, the list of extra work required isn't dauntingly huge either and won't take long to bring him to a standard we could happily call finished.
He's not show quality, he never will be and was never intended to be, the engine bay didn't get a lick of paint, it probably won't this next time around either. Still, he looks smart and I reckon he'll turn some heads.
Bean says he's learned heaps from this leg of the restoration, and I'm pretty amazed at how hard he's worked and how well he's done.
Some things we've learned over the past week:
1. Don't rush in to a paint job before your prep is completely finished*
2. Don't paint two different shades of white over each other because the underneath shade will inevitably show through somewhere*
3. Don't paint in a poorly lit garage at night time*
4. Having a second same-era kombi makes getting parts to complete the job much easier (as long as you ignore the fact that your other kombi is looking less complete every step of the way)*
5. When painting, it's so much better to pull the windscreen out, even if it means sacrificing a perfectly good seal to the stanley knife gods*
* All of the above lessons could also be much more concisely stated as:
Don't take a job 900km away when you've got a half finished kombi project in your garage!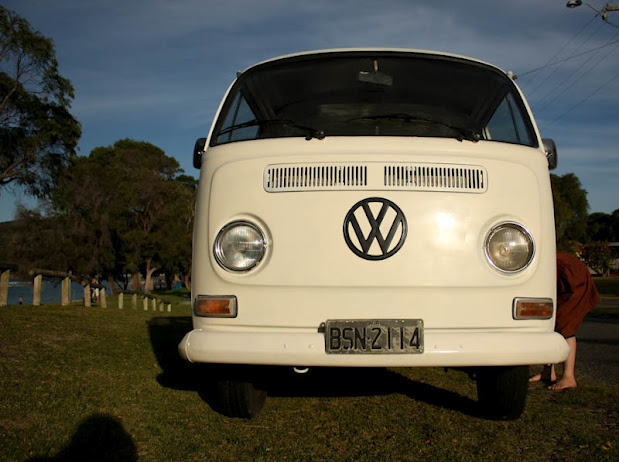 So now, I have a question for you, dear readers. What colour would you choose for the interior if you had a white kombi with a black VW badge? Black and white? Red? Blue? Orange? Green? Yellow? Purple? Pink? Brown? Other?