When I was a child I had an impressively large collection of Barbie dolls. Many of them were hand-me-downs from my older sister who had lovingly cared for her dolls and was utterly dismayed when I got my claws into them… I thought I could improve on Barbie's face with a little biro (ok, a lot of biro!). Our younger sister was worse still, she pulled their heads off so often that they became loose and would fall off during play. When that happened she would always say, in character,
"Oh no! My head fell off, just wait while I pick it up."
She also cut their hair, very short. She cut it when the head was attached to the body, and when the head was separated from the body. She wasn't fussy, if it had hair, she'd cut it.
Fast forward a couple of years and I began buying Barbies of my own with my pocket money. I lovingly cared for them, just like my older sister had cared for hers. I adored my Barbies, they were my favourite toys to play with. They had managed to keep me captivated all through my childhood. They were a toy that evolved with me, from the basic doll play of a young child to more elaborate character play spanning several "episodes" where I created personalities for my favourite dolls and used them to act out long and involved plots. I played with Barbies a lot, I even played with them when I was in high school. I had two friends, one from primary school and one I'd met at high school, who also played with Barbies still. I'm certain there were more of us, but it wasn't cool to admit it so we pretended to everyone else we knew that we didn't play Barbies when we visited each other. No, we "hung out" (playing Barbies!).
As a young teenager my Barbie play moved from character play to character and scene creation. I created a character in my mind, gave her a name and made her clothes out of old socks and fabric from my Mum's stash. I then built her an environment that expressed her personality. I'd make dioramas out of cardboard boxes, poster paint, fabric and craft glue. I never really played anything out once I'd created a character and an environment. I just posed the doll in there for a little while until I felt inspired to develop a new character.
One sunny day I was in the backyard hand sewing some clothes for a Barbie when a friend of my Mum's (who I didn't like then, and who I still find incredibly irritating all these years later) came out and teased me for playing with Barbies. She shamed me, told me I was "too old", and asked me when I was going to grow up like everyone else in high school.
After that I decided it was time to pass my entire collection on to my younger sister who wasn't particularly interested. It wasn't long before we were packing the dolls, their horses, their cars, their accessories (I told you I had an impressively large collection!) into big boxes and giving them to the little girls who lived across the road.
I was really sad to see my Barbies go. I hadn't wanted to stop playing with them.
Now we'll fast forward a few more years. I'd finished high school, long since forgotten about the Barbies. I was at uni and I met a fella who sparked my interest in feminism. Here's a funny fact for you… most women I know remove their body hair for men, but for this particular man I stopped removing my body hair. He told me he'd never been with a woman who shaved her arm pits, and being eager to please that particular man I stopped shaving mine, realised how much easier life became and in the 8 years since I've not looked back. I'll have to remember to thank him next time I see him! Anyhow, I digress…
So, back to the Barbies, my young hairy self began to critique fashion dolls. They're a cog in the huge machine of patriarchal oppression. They create unrealistic "beauty" ideals for young girls. They perpetuate intolerance. They represent a narrow expression of femaleness. Etcetera…
I decided then that no child of mine would ever play with fashion dolls! It's so easy to idealise the way we'll parent when we're not yet parents, isn't it?! So, I the hairy, feminist, idealistic parent of as-yet not conceived children would not set my child up to idolise a symbol of opression. When my daughter was born I adhered to it too. I ranted to my family, I gave strict instructions to them all to never, never, never buy my daughter a Barbie doll, and they've been obeyed for 4.5yrs (those strict instructions still stand, in case you were wondering). I had my older sister on my team also. We were the anti-Barbie brigade and you should have seen us go!
Let's fast forward again shall we, because this story is already getting ridiculously long… We'll fast forward to last week. Boxing Day to be exact. The day I, the hairy anti-Barbie feminist Mama, bought THREE fashion dolls. One for Sprout. One for Moe. One for me!
I know, I know. Those who know me in real life can pick your jaws of the floor now and allow me to explain myself.
Back in October 2010 I wrote this post about toy weapons and my (then) feelings toward them. The first comment, from Kestrel, on that post is one that introduced a whole new perspective to me. Here is the first part of Kestrel's comment, for those who don't want to click the link.
There is an essay in Katrina Kennison's "Mitten Strings For God" which you may find helpful. She has tow sons and one has never shown any interest in things that (to quote from memory) slice, swat, explode, shoot but her other son has always been fascinated by pirates, swords and guns. Because of her own attitudes towards weapons that son began to name himself "bad".
I began to wonder if it was ok to impose my own value judgements on my children and the things they expressed interest in. I know I hate it when someone poo-poos something I'm interested in. I know I hated it when my Mum's friend did it to me as a young teenager. What happened to me then, being shamed into giving up something I really enjoyed, could very well be what I would end up doing to my own children. The thought that I could say or do something that would lead my children to believe that they were bad because I didn't approve of their interest was really upsetting. After lots of discussion with myself, with Bean and with other parents, I resolved to be a bit less black and white about everything my children showed an interest in. Sure, I can discuss issues with my children, I can explain why guns are harmful, why Barbies are harmful etc. but at the end of the day, I'm not interested in creating a forbidden fruit or creating a situation where my children believe there's something wrong with them because they like something I don't approve of.
For the record, Sprout is really fascinated with killing monsters at the moment. She's hugely into guns, though she hasn't got any toy weapons she still uses sticks to pretend. I've been told it's very normal for 4 year old children to be into weapons and fighting games. I view it as an opportunity to discuss violence with her. She's reminded regularly to play carefully with her"guns". She knows (though sometimes needs reminding) that if someone says or otherwise indicates that they don't want to play that game that she's expected to respect that and stop the game. She knows she's not bad for playing at killing monsters. She knows she's not bad for telling someone she just killed them. We've been able to give boundaries, while not stifling the phase she's in right now.
So, how does that tangent relate to me, anti-Barbie me, buying fashion dolls for my children?!
I've taken Sprout into toy stores a few times, and every time since around the time she turned four she's asked me about the fashion dolls. I've dismissed it, told her they're just toys, told her they're for doll's houses, told her all sorts of things without trying to put (too much of) my own value judgement on it. She was never going to get one, right? So what did it matter? Wrong. She kept saying things like,
"Oh I really wish I could have one of them."
And I would reply,
"Why? What makes you want one?"
She could never give me an answer beyond saying that she just wanted one.
I remembered how much I had loved playing with my Barbies, and felt like a bit of an arsehole for telling her she couldn't have one. I still couldn't get past the Barbie thing though. All the bloody make up. Ewww. I started doing some research on Barbie-sized dolls that weren't Barbie. I was looking for something my daughter could relate to a little more. I found a few, but the ones that stuck out at me were the Liv Dolls. They were inexpensive, unlike the Japanese dolls I'd found that were a bit more realistic. The Liv Dolls don't tick all my boxes. In fact, they tick few. They still have skinny bodies, disproportionately big heads (reminding me somewhat of starved catwalk models) and flawless skin/make up.
What they did offer, aside from a price tag that make them attainable, was more realistic eyes, an articulated body, flat feet that can wear normal shoes and hair that can be replaced with a new wig so hair cutting wouldn't be such a big deal.
I decided to buy a doll for each of the sproggets, and one for me, so there'd be enough for us to play with all together. If I'd just got one for Sprout then Moe may have decided to wreck the game since he couldn't play. I also wanted to play with my daughter, so that's where my doll comes in to the equation.
While I was reading about dolls I came across a few tutorials for how to remove the stock face paint on dolls and how to repaint faces and seal them so they could be played with without rubbing the paint off. I also found some inspiration for handmade doll's clothes, which I thought couldn't possibly be too hard… I was slightly wrong there! Sewing anything in miniature is an exercise in frustration. Aaaaanyway…
I decided that for the cost of these dolls I could wipe one of the faces, and try my hand at customising. At the very worst we'd just have a doll with unpainted features, it'd have to be better than the stock make up look, surely?
So I got the materials I needed (acetone based nail polish remover, acrylic paints, matte varnish, gloss varnish) and had a go.
Before
After wiping stock paint off and before painting
After face repaint.
Turns out I'm not so bad at painting doll's faces. After I did the first one Sprout asked me to do hers, she wanted freckles on her doll too. I got a wig for Sprout's doll that is closer to her hair colour so her doll shares her eye and hair colour. She has named her doll "Annie" and Annie comes to a lot of places with us. Annie originally had inserted eyelashes like the others I've done, but Sprout wanted yellow eyelashes and on learning that I can't buy yellow eyelashes she decided she'd rather Annie have no eyelashes than brown ones!
Annie, dressed as a pumpkin!
I've made 3 or 4 t-shirts for Annie (and friends), a couple of skirts, a couple of dresses, some overalls and a pair of pants.
I have since wiped the paint off my doll, but left Moe's for now since Moe broke the leg on his doll and has shown that he's still too young to be interested in dressing dolls.
My doll
I have also spent this week customising dolls for my niece and nephew. The children of aforementioned older sister, who is also anti-Barbie! With my sister's permission I'll be giving my 9 year old niece and 5 year old nephew their first fashion dolls. A cowgirl and a farmer…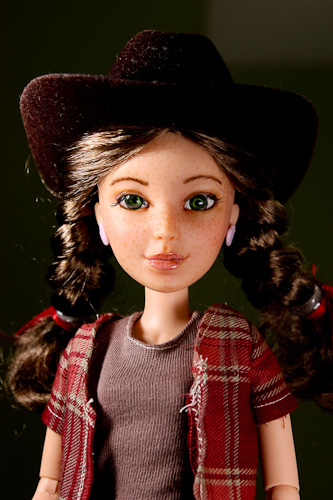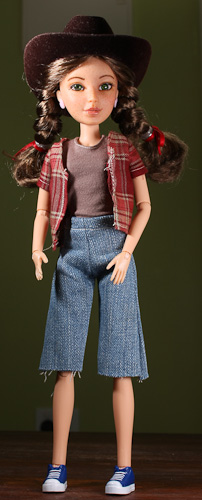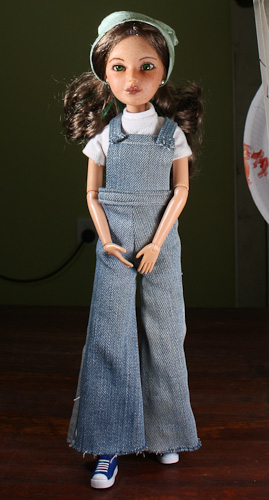 So, it's not a perfect solution. There is still something anti-feminist about them, but it's been a good compromise for our family, and at the end of the day I have to acknowledge that despite my obsession with fashion dolls as a child and young teenager (and even now, as an adult I suppose), I'm still hairy and damned happy about it!