I have a kombi "thing".
It all started with Olive. Olive was a 1975 dormobile camper that my Dad bought me for my 21st birthday.
I decided, while living for a few months in a tent at a forest blockade, I wanted a camper van. I could have got any kind of van, but I had a soft spot for kombis ever since my brother-in-law (my sister's husband) took me for a ride in one of his many kombis. I was planning to sell my little red barina to fund purchasing a kombi, but I hit a large tree branch that had fallen across the road in a storm one night. I really can say the tree jumped out at me!  So with the barina being a bit of a write off, I asked my Dad for a loan. Dad agreed to loan me the money and my BIL agreed to help me choose a kombi. Olive was the first kombi we looked at. BIL agreed she was mechanically ok, although she was a pop-top and he didn't like pop-tops. After nearly 5 years with a pop-top kombi I now understand why he doesn't like them, I don't like them either! Dad paid for Olive and I drove her home. Her interior upholstery was terrible. The fabric was a classic 90s style caravan print, pastel colours, terrible abstract shapes. I decided to re-cover the seats myself with chocolate brown wide wale corduroy. Dad and his partner helped me & it was while we were doing this that they told me they didn't want  me to pay them back for Olive, she was an early birthday present.
I went on many adventures in Olive. I lived in her for about a month or two at the forest blockade I mentioned above. I then lived in her on & off in Margaret River (Western Australia), while spending some time living with my sister & BIL and some time living in a disasterous share house situation with one other person. Olive's biggest adventure was being put on a truck and freighted from Perth to Sydney then driven around Northern NSW & South-East QLD while I lived there, and then being driven from SEQ back to Perth across the Nullarbor. I drove on my own the whole way, it was a massive adventure for my 22 year old self.
Shortly after returning from the east coast Sprout was conceived. Bean's love affair with VWs began soon after his love affair with me began so we got a baby seat anchor point fitted and Olive stayed with us for a little while longer. Olive wasn't really a sensible family car though, as my Mum loved to point out to me often. Olive had a camper fit out in the back, not seats. There was a 3/4 width 'rock & roll' bed, which is a seat that folds out to become a bed, and we could only fit one babyseat on that because there was cupboards along one side of it & just one seat belt. So when we began talking about conceiving a second child we also began talking about purchasing a sensible family car.
I sold Olive and a week later found Brigit, my kombi with seats. A very sensible family car.
Brigit was named after the celtic goddess of fertility since we bought her to put more babies in! Brigit is still with us, and I can't imagine that I'll be selling her for a long time, if ever. Brigit is a 1971 microbus deluxe. The man I bought her from in early 2009 had owned her for 20 years. He reconditioned her engine himself, and spent a lot of time polishing her in the garage he kept her in, and not a lot of time driving her. She was a real score. We have plans to restore Brigit. To cut rust out, weld new bits in, respray her & have the upholstery & interior all done by an amazing craftsman motor trimmer with lots of experience with vintage & classic VWs. We've not been camping much with Brigit, since I'm not a tent lover, so when we were talking about getting a second car to become our daily driver when we take Brigit off the road to strip out & restore we decided to get a second kombi, and deck it out as a camper.
I found a restoration thread for a 1970 VW transporter on a local VW forum and shared the link with Bean. A couple of weeks after we'd decided to look out for another kombi that same kombi came up for sale. The owner had done a lot of work on the bus, cutting rust out & welding in new panels, the evidence was all there in his restoration thread. I suggested to Bean that we check it out, & we decided to buy it. This one was going to be Bean's kombi, since Brigit is mine. The first time we looked at it the battery wasn't connected because the owner was waiting on a lead or something, so the battery was connected to the starter motor (or whatever, mechanics is not my strong point!) with a pair of jumper leads. This fact (JUMPer leads) coupled with the simple fact that it's a van inspired me to name him "Van Halen".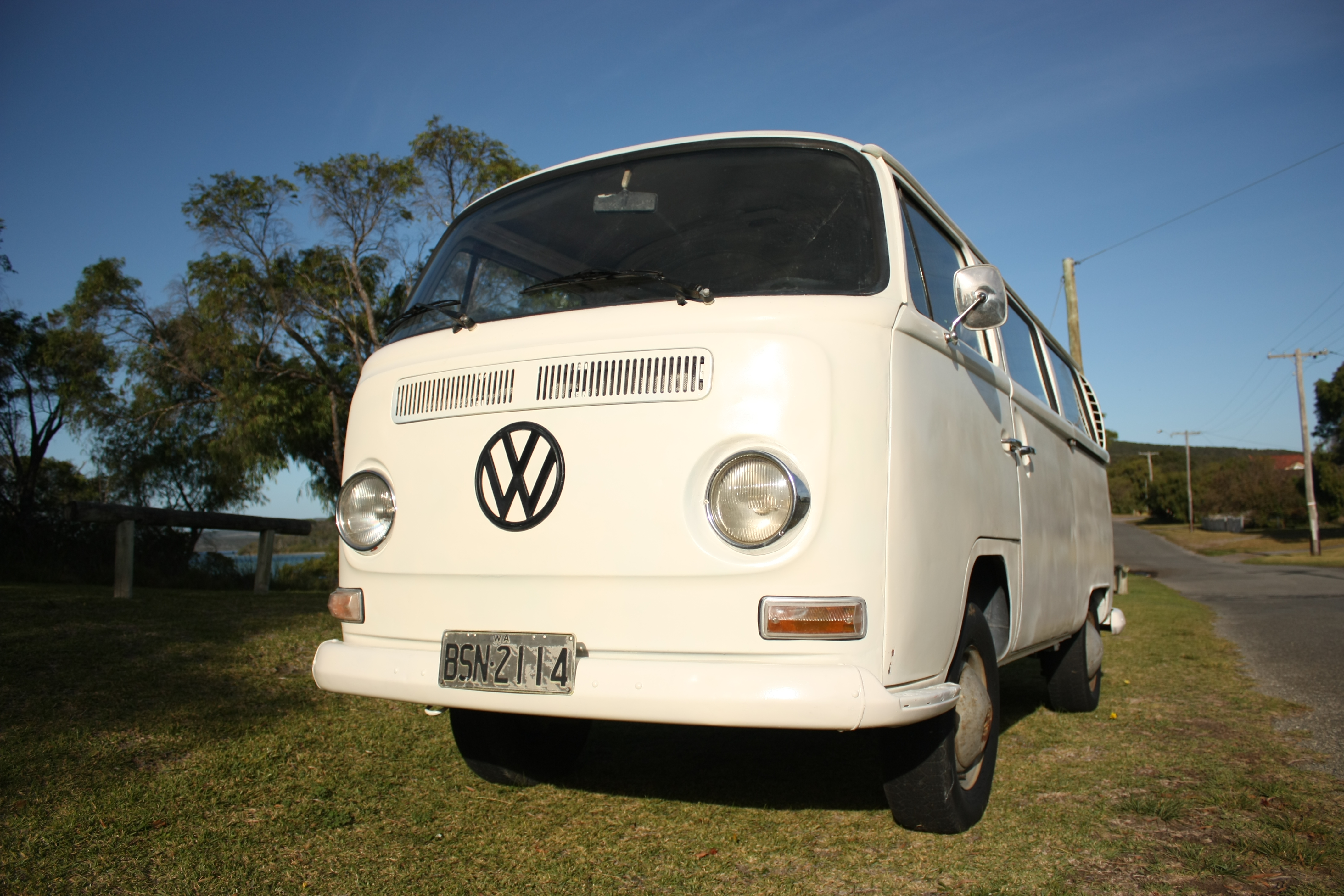 Bean has done some work on Van Halen, finishing off what the previous owner has started. We plan to respray Van Halen, get a camper interior in him (full width rock & roll bed, curtains & under bed storage), and some baby seat anchor points fitted so he can become the daily driver and Brigit can be taken off the road & garaged during restoration.