Welcome to the second instalment in my stories from France. See the prologue
here
.
---
From the airport we make our way through the cold and still dark morning to the flat we will be staying at for the next two nights, it belongs to a member of Le Monsieur's extended family and she wouldn't be using it until new year's eve. Now this will sound like a vomitous (is definitely a word) romantic cliché but I have no real clear recollection of my first train trip on the Paris metro because I was so fucking stoked to be with my love. I know there was luggage, and it was squishy for most of the trip but we got on the train very far from the centre of Paris so we did get to sit down. I know felt a rush of excitement as we disembarked the train, feeling sure we'd end up leaving luggage on the train or get separated after the pep talk Le Monsieur gave me about being ready to jump off quickly because we can't make the trains stay at the station by blocking the door from closing like we can in Perth. I know also that I talked Le Monsieur's ear off, not because I actually remember doing it, just because I know it's what I do!
We got to the flat where I had a much anticipated shower, it wasn't a particularly flash shower and it was probably in the smallest bathroom I've ever been in but I hadn't showered in at least 24 hours and I'm a bit of a Barbie about these things so it didn't take much to impress me at that point.
After my shower, when I was still only wearing a singlet and underpants, we opened up the windows to air out the stuffy apartment and appreciate the way the golden morning light danced across the facade of the apartment building opposite, while not quite hitting the pavement on the street below.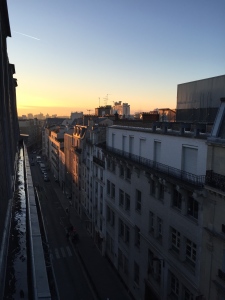 It didn't take long for the cold to chill me, the water in the gutters was frozen and the air was crisp. Le Monsieur asked me to hurry up and get dressed into the rest of my eleventy billion layers before announcing that he planned to take me to La Tour Eiffel!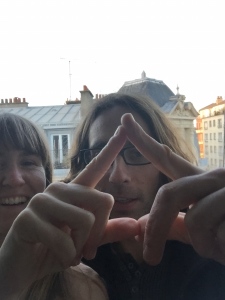 We walked back down the street toward the metro, well Le Monsieur walked and I almost skipped alongside him partly because his legs are much longer than mine and I have to skip every few steps to keep up with him and partly because I was terribly excited to be there. I waffled on and on about things that weren't important at the time and that I can't even remember now, and grinned stupidly at Le Monsieur.
"I'm in Paris, really, truly, actually in Paris… with you!"
On the way to La Tour Eiffel I'm warned not to walk on the puddles, because they're ice and they're slippery. Oh the cold! Now I know I've banged on about it a bit already but you've got to understand that the first day I was in Paris was also the coldest day of the whole three week trip, including the four days spent at a ski resort in the mountains! The damned puddles were frozen!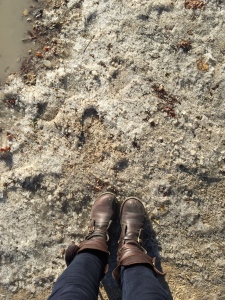 Ok, so I don't walk on them, but I totally stand safely on ice-less ground next to them and smash up the ice with the heel of my boot because frozen puddles are such a novelty for a woman born and bred in the land of the 9 month long Summer.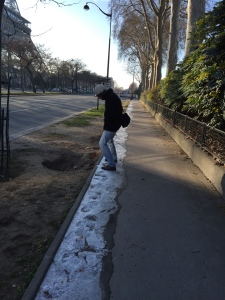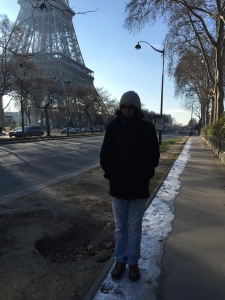 We stroll along the Seine, and Le Monsieur films me on location telling a Bad Joke of the Day joke that I've been planning to tell for months. Here it is for your listening pleasure…
After filming that terrible joke we cross the road to get to La Tour Eiffel and FAR OUT! It's so very, very, very excellent. We take ridiculous pictures and make a silly video to send to the sproggets.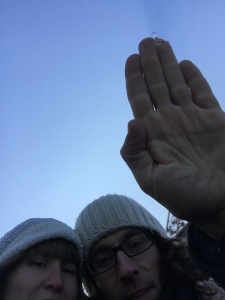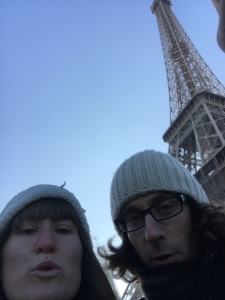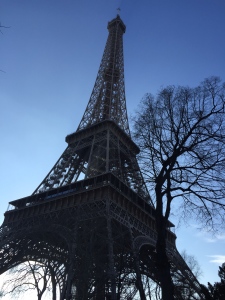 It's here that I choreograph the first of what becomes a series of photos we call "peekaboo"…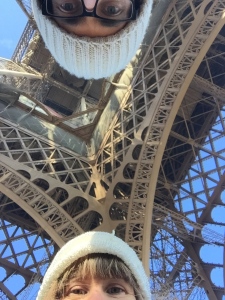 I wanted a picture of La Tour Eiffel from underneath, but I wanted it to be a picture that was ours, not some generic photo of one of the most photographed monuments in the world so,
"Hey can you please lean over the phone so just your eyes are showing like this…"
Yahoo, peekaboo!
We walk down the avenue away from the tower, through the crowds of people lining up to climb it, past market stalls especially set up for the holiday season – all selling the same mass produced souvenirs.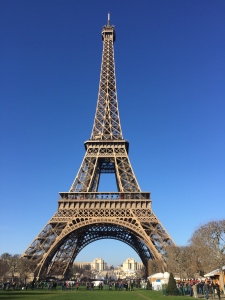 Le Monsieur has his DSLR camera, he bought two new lenses for it before he left for France, and the camera and camera bag become a daily feature over the next three weeks.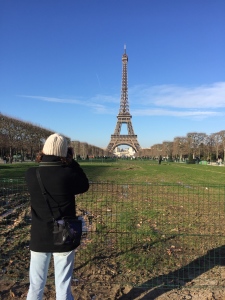 After La Tour Eiffel we walk across one of the many spectacular bridges that cross the river Seine and on the other side I make my first attempt at purchasing something in France. Naturally, I cock it up but the man serving me clearly speaks English, has a laugh at my expense and hands me the bottle of water, I take it and we head toward L'Arc de Triomphe. Boyo has specifically requested that I get a picture of it for him, so we take several…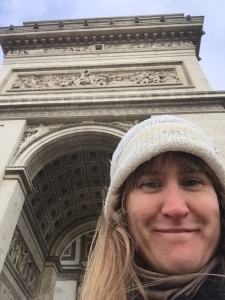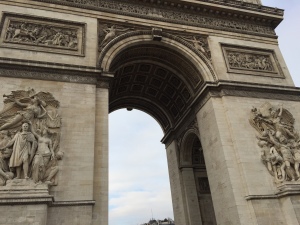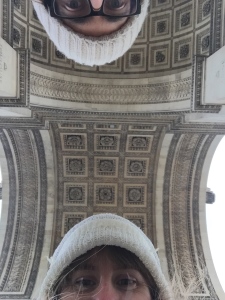 From there we walk down the Champs Elysees. It's horribly crowded but we check out a few shops, looking for a warmer beanie for Le Monsieur and better gloves for me. We find a lot of ridiculous looking woollens and have a bit of fun playing around with them, but we don't find anything just right.
In one of the shops we see this really tall guy and get a picture for my brother-in-law who once had a wooden giraffe of which he was quite fond.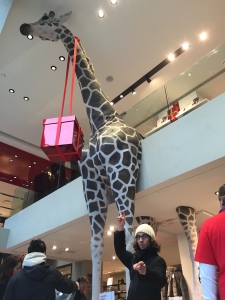 At the end of the Champs Elysees we walk through another seasonal market, finally finding some warmer woollen accessories for the both of us there, and decide to head out to have a look at Notre Dame.
We pull out the map and eventually work out which route we have to walk and as the sun is going down we cross another beautiful bridge on the way to Notre Dame, pausing to admire the silhouette of La Tour Eiffel on the pink and grey sky.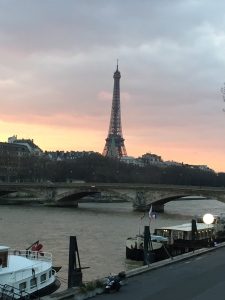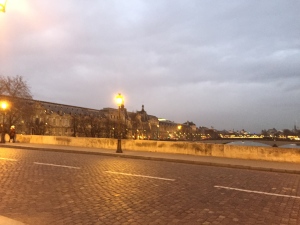 Also on the way we stop at Musée du Louvre, closed for the day by this stage, but still a spectacular sight. While there Le Monsieur has a brilliant idea…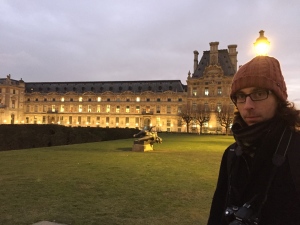 Just kidding, he just happened to stand under a street light.
We head on to Notre Dame, getting there well after dark.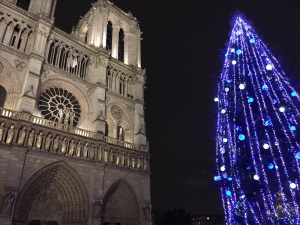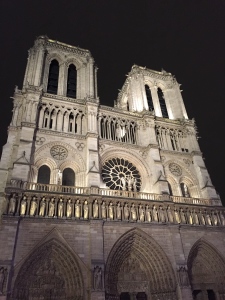 It's quite spectacular and quite humbling for me to be standing next to a building that's older than any I've ever seen before.
We decide to grab dinner at a place over the road from Notre Dame. I'm utterly exhausted by this stage, it being extremely late back home in Australia and despite my restful flight my body still wants to function on Australian time. Extreme tiredness and not being sufficiently layered with clothing to be warm enough have made me ridiculously hungry and I eat a larger meal than I have in recent memory.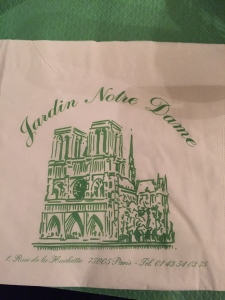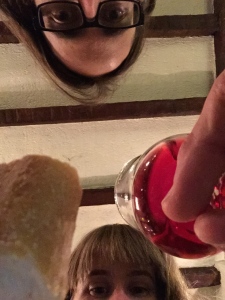 After our satisfying dinner we roll back to the metro where we spend a bit of time being confused over the huge number of trains available to catch before choosing the right train line and heading back to the flat. Day one is over. We've covered a huge distance on foot, seen so much and had a wonderful day reconnecting after more than three weeks apart. I'd call it perfection really.
---
The pictures in this post are all from my iPhone, and Le Monsieur has some that are of far better quality on his computer. I'll get onto him about handing them over this weekend and hopefully post some really fantastic pictures of the same stuff next week. Until then, enjoy the story and stay tuned for pictures and stories from day two.