"I'm not coming to France. There is nothing that will make me get on that plane."
He sighs. Here we go again. I can hear the frustration in his voice as he patiently asks me,
"Why?"
I list a multitude of "reasons". The same reasons he talked me down from a couple of days ago, and a couple of days before that, and a couple of days before that too…
I'll miss my children. I'm afraid of flying. I can't speak French. I'm afraid his family will hate me. I'm afraid of skiing. I'm afraid I will run out of money. I'm afraid…
It's the day after Christmas. Tomorrow will be Boyo's birthday. I have a ticket to fly to France the day after that.
Le Monsieur convinces me, again, that it'll be ok. My sisters convince me, again, that it'll be ok. My Mum convinces me, again, that it'll be ok. My brothers in law convince me, again, that it'll be ok. Even my twelve year old niece joins in with the chorus of people convincing me that it'll be ok as she deftly picks apart every single one of my reasons to bail on the trip I'd been planning for several months.
The morning of Boyo's birthday I wake before the sproggets. We are staying in a caravan at my elder sister and brother in law's house in the south west of WA and even though it's very early the caravan is flooded with the clear blue light of an Australian Summer dawn. Boyo lays asleep next to me, his impossibly long eyelashes dusting his smooth, pink cheeks. I don't remember him coming into my bed overnight but in that moment as I watch him sleeping, studying his perfect just-turned-five-years-old face, I am grateful that he did.
I hear Girlie's soft snoring from the other end of the caravan and realise that my eyes are wet. I'm going to miss them so much.
Boyo thinks his birthday is pretty much the best thing ever. He's especially excited this year because he had gastro the day he turned four and today he is feeling well enough to make up for the lack of celebration the year before. His Dad drives from Perth to join us for a picnic under some gum trees. At the end of the day, we go back to my elder sister's house. I'm packing up our things in the caravan in preparation for moving the sproggets to my younger sister's house down the road, where they will stay for the three weeks that I am in France. I freak out again. My elder sister had spinal surgery in mid-December so she's laying in her bed, recovering from being up and about at the birthday picnic. I go to talk to her. She talks me down. She suggests I visit my younger sister at work at talk to her about my concerns. I do, and on the way I call Le Monsieur and freak out at him (again).
Eventually, through the effort of those around me I'm calm again. We are at my younger sister's house, in the room she has set up to be the sproggets' bedroom for the next three weeks. We have read them stories, I have tucked them in, we are talking about my imminent departure. They are both so tired, but they don't want to go to sleep because they know I will be leaving when they do. I decide that I've got to leave while they're still awake, it's the most fair way to do it. I cuddle my babies, I tell them I love them, that I hope they have a wonderful holiday with their Aunty and that I'll see them at the airport in three weeks. I walk out of the room, hug my sister and thank her again for the incredible, generous and loving gift she is giving me by taking on guardianship of my babies while I do this thing I need to do for me.
It's really late and I have a three hour drive to get back to Perth tonight. I have to go. I'm not even five minutes down the road when my phone beeps with a message that I don't check until I pull over more than an hour later, I know it's telling me the sprogs are asleep.
I call my Mum from the road side at midnight. The plan had been that I would call her when I got back to Perth, she'd pick me up from my house and I'd stay with her for my last night. I had cleaned the house and stripped the beds before we left to spend Christmas in the south west with my sisters but I tell her I won't be home before 1.30am so she should go to bed, that I'll sleep on the couch with a blanket and call her when I wake up in the morning. I get home and unpack, I potter about and finally lay down after 2.30am. Sleep doesn't come easy. I tell myself that's a good thing because it'll be easier to sleep on the plane if I'm exhausted. I've never flown long haul before, but I've heard it's horrid…
The next morning I call my Mum, she takes me to breakfast at Kings Park, for one last look at the beautiful Perth skyline before I leave, she tells me. I wonder if perhaps she's worried I'll fall in love with France and forget how wonderful my homeland is?
We run some errands, have a hair cut and a manicure, we are killing time before I have to be at the airport.
At the nail bar I hear that a plane has disappeared, suspected to have crashed into the ocean after a storm. What the fuck? Thanks for that one sky daddy!
Mum takes me to the airport and after I'm checked in and she's bought me a horridly overpriced lunch she confesses that she wasn't sure I'd make it this far. Well, I'm here now having handed over my babies yesterday and my bags just now so I suppose I'm going to France. It's time to board so I thank my Mum, take a deep breath and get on the plane.
My first flight, to Kuala Lumpur, is awful. The turbulence is bad and the news of the missing plane weighs heavily on my mind. I discover that I am an anxious flyer. I wish Le Monsieur was with me. I wish my children we with me. I'm in a horrid limbo of being stuck in a tin can bouncing from the part of my heart I left in my homeland and the part of my heart I'm traveling toward in a distant and unknown land.
I'm so relieved to land in KL and for a moment I consider asking to swap my ticket to France for a ticket back to Perth. That way I will still have to get on another plane but only once and not for 13.5 hours. My stopover is only two hours and before I'm really consciously aware of what's happening I'm sitting in the departure lounge waiting to board my next plane. A french man sitting next to me tells someone that he's just received word that it's snowing in Paris. This news makes my heart skip a beat and I start to feel a bit excited. There's snow, and there's my lover, at the end of this flight…
As I'm sitting in my designated seat a flight steward approaches me,
"Excuse me madam, there are seats free at the back of the plane if you'd like a row to yourself?"
What luck! I've heard this happens very rarely, already this flight is better than the first.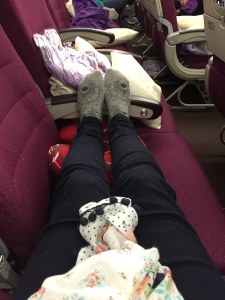 I move to the back of the plane and gratefully spread myself out across three seats. My first long haul flight is a dream, quite literally as I am able to lay down to sleep for 8 hours of the 13.5 hour flight. I'd had very little sleep at home the night before and so sleep comes easy. When I land in Paris at 7am local time my face, hands and feet are visibly swollen, but I'm refreshed and my body is already prepared for local time. I did it. I'm in Paris and I'm so close to seeing my love.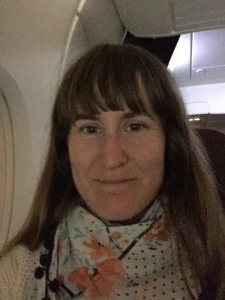 I follow the crowds through customs, get a stamp in my brand new passport, collect my bag and walk through the arrivals gate. I scan the crowd for Le Monsieur, I see him before he sees me and I run toward him, launching myself at him. It is so, so, so good to see him, to smell him, to kiss him again. My eyes are wet, again, unsurprisingly because I cry at anything. He pulls himself away from me,
"Do you have another coat in your bag? Now is the time to put it on if you do, it's very cold."
We move to the side and I put on extra layers. I'm actually here. I'm in France. With Le Monsieur's hand in mine I walk through the airport doors and a rush of cold hits me. I've never felt so cold in all my life and it's time for our adventure to begin…