Bonjour mes amis!
Once again, there's been what seems a lifetime between posts…
For now, at least for this post, I'm back. Back to tell y'all where I've been.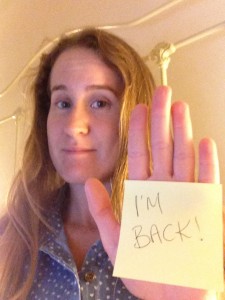 The time of my hiatus from blogging has been a big one for my small family. Bean and I separated last year and navigating that has been difficult. It's something I haven't wished to write about in detail on a public forum because it's not just my story, it's Bean's story too. Since Bean and I are no longer "we" and "us" I don't believe it's my right to share our stories in the way I used to on this blog. Our separation and its aftermath consumed my life for quite a time so it seemed easier to stop writing publicly than it did to write about anything and everything but the changing landscape of my family. Oh but now there is so much to write about! There are so many things to share that I think it will take a good many posts to bring y'all up to speed…
I'll go with the "in a (very big) nutshell" approach for now so as to cover as much ground as possible in one post.
Last year I began a degree at university. I'm enrolled in a double major in community development and social + developmental psychology. I love it, it's so many shades of awesome. After 6 years of stay at home parenting it was so refreshing to spend time talking to other adults about things that weren't my children. I started uni a week after Bean moved out of my home, it was an intense time, but I'm proud to say I nailed it and I got consistently great marks.
The sprogs and I now live in the inner city of Perth which has been a huge change from living in Albany and Geraldton! We moved here, with Bean, in December of 2012. I've been in this house now for longer than I've been in most of my other adulthood homes. I love this house so, so much. My landlords are fantastic and I have relished the chance to care for this beautiful, old house. I had permission to paint inside recently, it's an ongoing project as funds permit but I absolutely will be sharing a ridiculous number of photos of this house here on the blog. I'll also be able to start telling tales of some adventures in the garden now the weather has cooled enough for plants to have a chance at establishing before being burnt to a crisp by the hot Perth Summer sun. I've already begun to potter around out there and I love the way it feeds my soul.
The lifestyle here is lovely. The CBD is a short walk or bicycle ride away and I have some wonderful local friends. The sprogs are both at the local state school, and while it's not my ideal to have them at school at all (my ideal is unschooling/natural learning/life learning), it is a really lovely little school and they are both delighted with their teachers. It's working well enough for our family right now.
I really, really miss living near big trees and breathtakingly beautiful, secluded beaches, but we live near a gorgeous big park with Morten Bay Figs and two large lakes that are habitat for turtles and birdlife. I also do get the chance to recharge in the bush every school holidays when the sprogs and I go on Interactive Adventures Camps.
It was October of 2012 when I started back as a volunteer at "camp" after taking a 5.5 year break to have the sproggets. Camp has been a huge part of my life for half of my life, and I am massively grateful to be able to share it with my sproggets now. I will be writing about camp a lot, although words really can't express what camp is and what it means to us. Many of my very favourite people are friends I've met at camp. We are going on camp next week and we are all very excited. In the interests of the nutshell, and in doing justice to camp, I will stop writing about it for now but do stay tuned for more about camp in future posts…
My dear kombi Brigit is currently mid way through a restoration of sorts. She's in a workshop now awaiting a fresh paint job after having extensive rust repair work done. I miss her pretty hard and I think my first drive in her after I get her back will be one of the sweetest experiences I'll ever have. I am so looking forward to it.
Perhaps the biggest news, and certainly for me the happiest news, that I have to share is the introduction of a new character to my blog. It is with great pleasure I introduce to you, "Monsieur Lapin Blanc".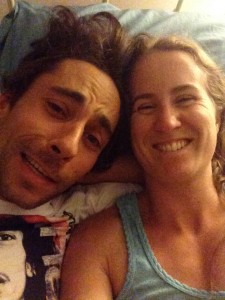 This man is utterly delightful and all three of us Wilde Things love him almost to the point of chest explosion.
His blog moniker is French because, no prizes for guessing, he is French. I've been half arsedly learning French for about 7-8 years now but this man, this white rabbit, well he's a pretty good incentive to try a bit harder.
Monsieur Lapin Blanc has come into our family with an open heart and enriched our lives in many beautiful ways. He is so wonderful to us and we are blessed to have him. In choosing to be with me he has also chosen to give his time, his energy and his love to helping me raise the sproggets. I believe he is an excellent role model for them and he is a complete dag, which means he fits in perfectly here. We relish the time he is with us and when he is not with us I miss him like an idiot misses the point.
So there, dear readers, is as concise an update as I am able to give. We are happy, we are well, and I am back!