Here in Geraldton we've been living in a suburb called Beachlands. It's full of old fibro houses and it's a bit ugly, but there's no other houses between ours and the beach. There is our road, a big wall, a four lane highway, a train track, and another road, but no other houses so that makes it beachfront right?! Ha.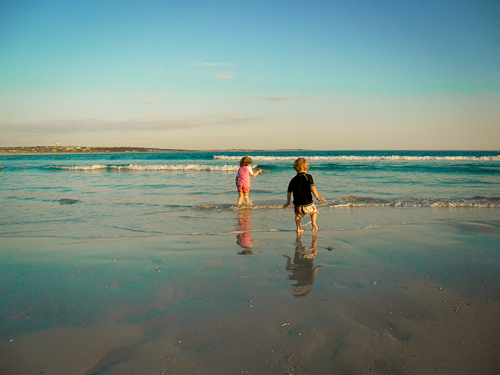 We've only been to the beach a handful of times since we've been here, much less than once a week on average. There was a time where I was ducking over there for a solitary walk as soon as Bean got home from work but then his hours changed for the Winter and it was getting dark by the time he was dropped back from work each day so the walks didn't continue.
Bean's hours have changed again and it's starting to warm up a bit here now. The last few days it has been hot. In fact, last night was so hot I slept in my undies with the ceiling fan on. I've been joking that it must be Geraldton's comfort tax on my enjoyment of the beach yesterday, because we really enjoyed it.
Yesterday was the second consecutive day we wandered over there after Bean walked in the door at the end of the day and it was just lovely.
The sprogs played chasey with the waves, I scrunched my feet in the sand, we talked about what next… and we're none the wiser after talking about it. Really, what next?!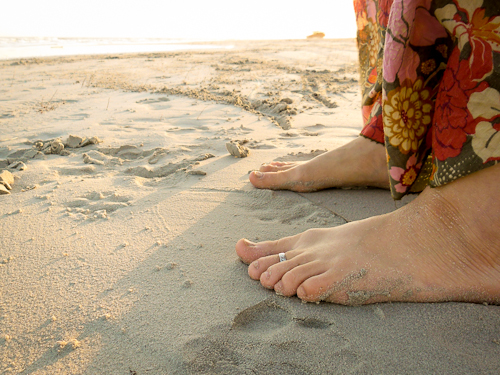 I left the sprogs digging a pool at the water's edge with Bean and went for a short walk up the beach. Even though I've been so lonely up here and I've been craving companionship I have felt desperate for time alone too. I've felt overwhelmed by the mundane nature of daily life up here. I've felt that my life has revolved around making food, cleaning up after the sprogs and entertaining the sprogs with little to no outside input. I've been on autopilot for a while now, not really conscious of what I'm doing but just acting out of habit.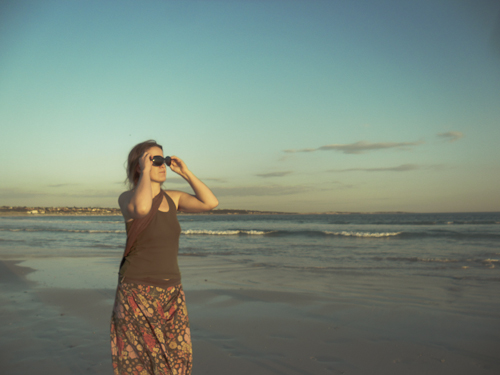 In the last few months I've had many low points in my interactions with the sprogs and expectations of them, and myself, that are not based in reality.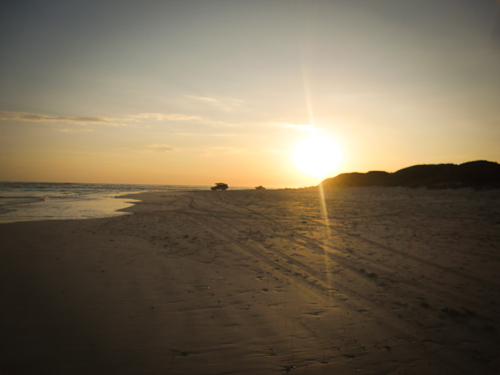 The walk yesterday evening, however short it may have been, gave me time to breath and caused a shift for me.
This morning I woke feeling more refreshed than I have in a long time and I felt enthusiastic about spending the day with my sprogs.
Maybe it was the walk? Maybe it's the knowledge that I'm leaving here in 5 short days? I don't know, but whatever the cause I'm grateful for it.
The sprogs and I went to the green grocer this morning and stocked up on bananas, strawberries, watermelon and apple. We came home long enough to pop it in the fridge before heading out again in search of a paddle pool. We found one at the second shop we went to, twenty dollars thank you very much. Perfect.
We got home and the sprogs had a little rest while I inflated the pool so when they woke up it was ready to be filled. They hoped in with the hose feeding cold water in while I bucketed in scalding hot water from the tap. As one of the billions of buckets I carted was filling up I remembered the hippy bubble bath we bought yesterday and chucked a bit of that in too. The warm, bubbly paddle pool kept them amused for a couple of hours! When they finally got out we watched an episode of Grand Designs together on ABC iView before they decided they wanted to hop in the pool again about 10 minutes before Bean got home from work. The second time they were in there I decided it looked like so much fun I got my clothes off and jumped in with them.
I started swishing up the water and got some serious bubbles happening, we were a pile of bubbly giggles and it was so much fun. I think I'll have sore arms tomorrow from all that vigorous water swishing but it was so worth it and the three of us are looking forward to more bubbly fun again tomorrow.