Wow! What a month it's been.
As briefly mentioned in a previous post, we have moved in to our new place. I like to call it Legolandia. Let me describe the neighbourhood for you…
Double garage. Double garage. Double garage. Double garage…
It's a bit soul destroying really.
Thankfully, while the view out the front is as I've just described, the view out the back glass doors is this.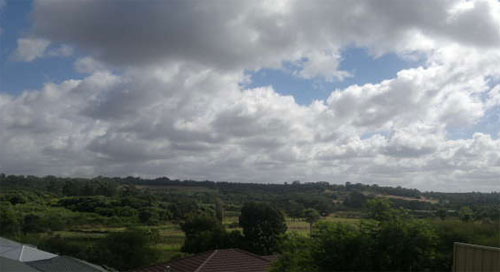 Which redeems the place somewhat.
We have moved and unpacked (pretty much) everything. The house is huge, and we haven't got much furniture* so the house echoes. The already noisey sprog noise is amplified, so I'm keen to get some quilted wall hangings on the walls to deaden the sound a bit – which is an achievable goal** now that I have a dedicated sewing/art room (squee!).
My sewing room isn't properly set up yet, unfortunately it's not been able to be a priority yet since I had some assignments to do and the more practical areas of the house to set up. Now all of that is done, and so I can get on to sorting out my fabric stash and setting up my machine. For all these excuses, since the rest of the house was unpacked and my assignments handed in I have lacked the motivation to set my room up, some days I could probaby find snippets of time to do little bits here and there which would all add up to a functional and productive space in no time, but I haven't really felt very driven to take those opportunities.
Being in this house has been a bit of a challenge for me, particularly as it hits me that we're staying in Albany for another year (well, 11 months now, but who's counting huh?). It's not beautiful. Not to me. It feels like I'm visiting someone else, it doesn't feel like my home. I'm fully aware this is such a wanky, middle class thing to whinge about… but indulge me, please?
The yard is bare. Builder's sand, dead lawn and some very sick looking lavender bushes. That's certainly saying something… when do you ever see sick looking lavender bushes? Lavender is so hardy!
I'm working on it though… My pot plants all together on the back patio make that part of the yard look beautiful, and at the weekend I transplanted a heap of gotu kola into the bare space between the path and retaining wall down the side of the house. At the top of the same retaining wall I planted some native violet. I chose them because they both survive well in low light situations and that area only gets direct sunlight for around 1-2 hours per day. Soon they'll both begin spreading to fill that space and add beauty to the view from the sprogget's playroom. Planting the gotu kola there means I can harvest it more frequently than I have been able to harvest it from a pot since there'll simply be more of it to harvest, and it won't be able to spread too far since the growing space is contained by retaining wall and pavers. Out the front on a steep hill where there has been some pretty bad erosion caused by foot traffic killing the grass I also planted some rosemary (a prostrate variety that spreads to 2m and a bushy variety), with some pennyroyal (spreading) and yarrow (spreading). I want to stabilise that hill before Winter brings heavy rains that will wash all that sand down to our front door.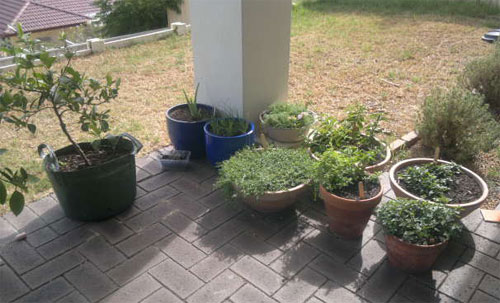 Indoors it is not beautiful either. The fittings are cheap and the workmanship is poor. I suppose it's really to be expected when you build a huge house for very little money but it still irritates me that the carpenters didn't hang the doors straight, the plasterers left gaps in the cornices and the electricians put the light switches in illogical places because it would use less wiring and therefore be cheaper. The floor is cheap vinyl, printed to look like wood. It's torn and heavily marked in some areas, making it look even more tacky than it would have the day it was laid! Places like this seem so soul less to me. Still, as with the yard we are working on it…
We are doing what we can to make this soul less space a little more ours. To fill it with a bit of our soul.  There are some picture hooks on some of the walls, and so we print some of Bean's photos to hang. There is a large jarrah dresser in the living area that came with the house, it has become home to my dipensary. Tinctures, dried herbs, essential oils, carrier oils, clays, ointments, creams, pure plant incense… I think it is beautiful, and it is convenient too since we use items from my dispensary every day.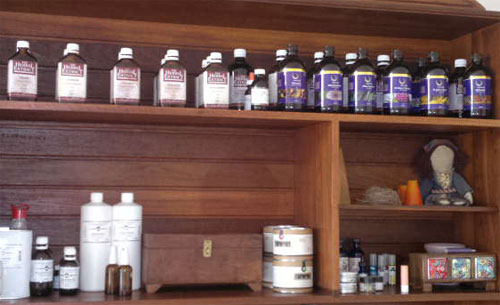 I am trying to love this place as our "for now" home, and trying to think of it as more than simply a stage to wait out until a better life comes along. Some days that's easy, and some days it's terribly hard.
Today has been a nice day, we had rain overnight which cleared to bring us a sunny, warm day that was perfect for playing at the park which we did twice. There was more laughing than crying today, more co-operation than argument, and lots of love. The love is always there though, even on the days we all cry and argue…
We're doing our best, I'm doing my best, to enjoy right now and to be very grateful for what we do have,  and right now that is a home that is much larger and more comfortable than the shed. Being rid of the shed is something I am particularly grateful for!
*Our mattress got mouldy at the shed so Sprout is the only person in our family who actually has a bed and mattress at the moment, the rest of us sleep on the floor!
**Provided the owner agrees to let us put some hooks up.