Since December 23rd Bean has been off work. He'll return to work Monday 16th January, with a new employer. Originally he'd booked just next week off. He was supposed to work all days except public holidays between Christmas time and new year and the first week of January but his ex-employer is so quiet he asked Bean to take the extra time off. Lucky really, since Bean had planned to find alternative employment anyway. The job hunting took just one day, he cold called about a job that morning and was offered a job that afternoon.
Since this time off wasn't planned, and has been organised a day at a time we haven't really gone anywhere far from home. We've had a lovely Summer staycation here on the south coast, although some days the only hint it's Summer has been the sunflowers in bloom! We've spent some time together, just regrouping and celebrating the end of Bean's apprenticeship and we've spent some time with friends just a little way from our home. I had thought having all of us in the little shed a lot more than we normally are would drive me up the wall, but it's been ok really. I'm pretty sick of it now, and I have a pretty short fuse because of it, but we're about to have one week's holiday from the little shed which is just perfect timing really.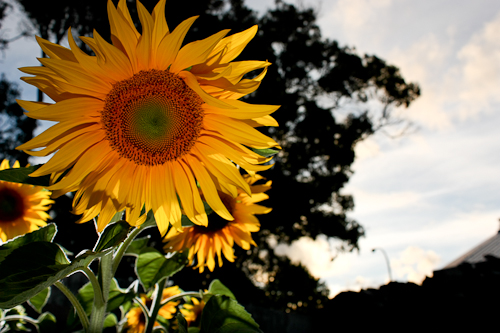 Tomorrow we're heading to sunny Perth. We're looking forward to catching up with family and spending as much time with them as we can in the time we're there. It's particularly exciting to be visiting this time because aside from seeing the family who live in Perth we'll be seeing my older sister and her family there too, they don't live in Perth either so it's great timing that we'll all be there next week. Bean is looking forward to seeing my brother-in-law, I'm looking forward to seeing my sister, and the sproggets are excited to play with their cousins.
Tonight we're packing clothes, road trip snacks (savoury muffins, popcorn, local cherries and local macadamias), and other random assorted things we think we need to take and hopefully all having a very early night before we set off at sparrow fart tomorrow.
See you on the Perth side. What a week we have planned!