Yesterday we got together with some natural learning families at the home of a lovely family who are testing the waters after their eldest child expressed a desire to homeschool. Some of the families live here already, and some are moving here in the coming months. It was such a lovely gathering that we've decided to get together again next week while most of us are still around. One of the families will have to return to Perth befoe then which is unfortunate, but the rest of us are able to come along. Each family had both Mum and Dad there, since it's holiday time, and it was really lovely to connect with other natural learning families in a group situation.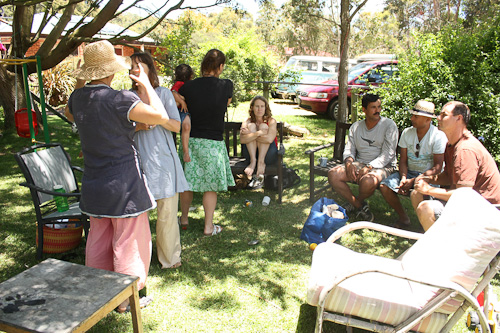 The sprogs had a great time, and Sprout has told us how much she's looking forward to the next gathering. I am too, and I'm also really looking forward to it being a regular occurence when we're all living in Denmark.
After the gathering we went back to the home of one of the families and had some lunch together. Our children play well together and we really enjoy spending time with them all so it was a nice segway from larger group gathering to smaller group to just our family group again this evening.
I borrowed a book about pagan celebrations from them after a bit of a chat about our desire to bring more seasonal celebration into our lives. My sister owns the book, but I've only quickly flicked through it before. It was nice to talk about the nature of celebration with other people, especially these people because they're just so open.
I really enjoy spending time with other natural learning families, I come away feeling energised and inspired.