I have a new Tuesday afternoon pastime…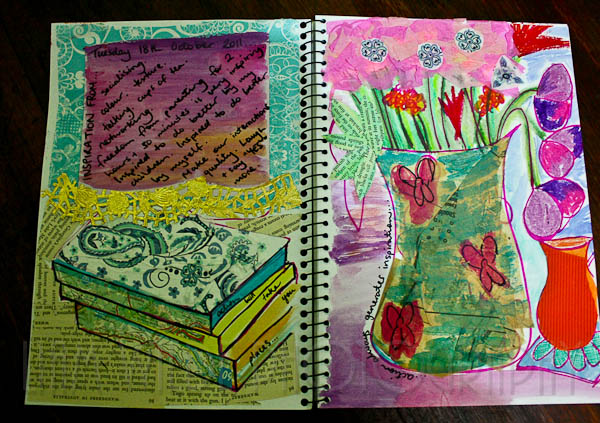 The Rainbow Coast Neighbourhood Centre runs a FREE art journaling course for mothers with post natal depression and/or anxiety. Some women have been diagnosed with PND and some, like me, have self referred because we're feeling isolated, lonely, or a bit down. Not only is the course free, but the creche in the room right next door is free too.
Yesterday was the first class of the term, some other new women joined and some women were returning. The theme for yesterday was "inspiration". The group leader gave us a quote, about 3 sentences long, that basically said inspiration rarely creates action but action always generates inspiration. Basically, don't wait for the ideas to come, just start doing and the ideas will follow. It was a concept that spoke to me…
A mish mash of objects was placed on the table in front of us and we were given large markers to draw what we saw.
We were told to make it abstract, not realistic. To make it about shapes, not detail. We would be adding to it later on, making it more abstract.
I chose to draw the vase, rather than focus on the flowers in the vase, because the vase had flowers that looked like vulvas painted on it. I loved that! Someone else may not have seen vulvas, but I did. Beautiful, flowery vulvas. They were marvelous!
Once we'd drawn some shapes we got stuck in to adding colour with water colours, oil pastels and the huge selection of papers that we could glue on.
I used some corrugated cardboard, an old sewing pattern, some wrapping paper, a gold paper doily, a paisley napkin, some tissue paper and some maps. It really transformed the way it looked.
I had a fabulous time being able to speak to other adults without worrying about my children's immediate needs. Adults who know the isolation I'm feeling as a mother, especially as a mother in a new town. The sprogs enjoyed themselves too. Sprout had more fun than Moe, because Moe was a little tired and because it was the first time I've ever left Moe with anyone he's only just met. I felt guilty about leaving him, but he was having a fabulous time when I left, and they never left him to feel sad on his own. I walked in and he was having a cuddle with one of the women who had been looking after him. He was glad to see me, and I was feeling refreshed enough to be glad to see him too. Next week I'll see if I can put him to bed for a sleep before we go, that will probably help, and he'll get more comfortable with the space as time goes on. This outlet for me is important enough to move through the Mama guilt and know I'm able to do better by my children if I have this meaningful couple of hours time out from them each week.
I think I'll really enjoy my Tuesday afternoons for the next little while…