Today we had a switch off & reconnect day. Bean made some pancakes while I had a blissful sleep in, then after breakfast Sprout dressed herself and announced that she was ready to go out, so we went to the beach.
We drove a little way out to a beach that we could have to ourselves. We're so lucky to be near so many lovely beaches in this part of the world.
Bean took some photos for a project he's currently working on, and we spent a good amount of time picking up tiny shells, marvelling at their beauty and perfection.
On the way home we decided to buy a couple of noodle boxes to share for lunch because Sprout was getting very hungry and we wanted to feed her sooner than later.
Then we got stuck in to gardening for the afternoon.
The council green waste bin was already full so I asked Bean to ask his folks if they'd be able to borrow one of their neighbours bins to fill with weeds. I really dig the greenwaste collection thing this council has going on. Normally we'd compost the weeds but we've only got two small compost bins in this yard and there were so many weeds (we filled one and a half wheely bins!) we didn't have anywhere to put them all. It's all good though, because the council composts the contents of everyone's green bins and then sells it back to all the people who were too lazy to compost it themselves. It's brilliant, I tell you! I love weeding. Really, I do. It's so wonderful to see where you've been working. Especially after this perfect weed growing weather – rain showers, warm sun, rain showers, warm sun, rain showers… repeat.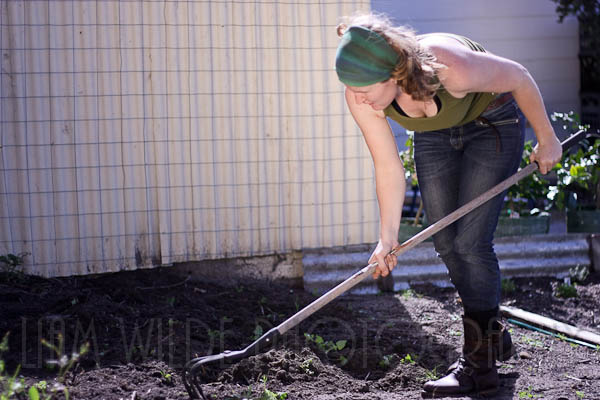 Sprout and I planted some ornamental flowers in the spaces where the weeds had been. There's NO flowers in this yard at all, so I'm hoping to attract some bees with the flowers. It's a bonus that they look sweet too. Sprout loved helping, and I thought again how much I'd love her to grow up on an organic herb farm. Growing stuff is awesome, don't you think?!
While I planted and weeded with Sprout, Bean did some rust work on Brigit the kombi. He attacked the surface rust that's shown up since we've moved here to rainyville with an angle grinder and some primer. Brigit's second in line for the full restoration because Van Halen is closer to finished. Once Van Halen is done Brigit will be taken off the road, stripped to an empty shell then fully restored inside and out. Van Halen's nearly rust free now, and so nearly ready for a respray. When he's resprayed, which Bean will be doing himself (maybe I'll be able to drag myself away from my limpets sproggets long enough to do a bit of it as well?!), we'll build a rock & roll bed and make up new door cards. He's so close to being finished I can almost see myself driving around in Bean's flash looking restored kombi! Anyhow, I digress… don't ask me about the kombis, I always go on too much once I start! Now, back to today…
While we were in the yard the sprogs (and Dave) met some children over the fence. They don't live next door, that yard is often empty of people and full of weeds, so it was a lovely surprise for the sprogs to find friends at the fence.
After a chat it was decided that they'd play together on the same side of the fence. Bean opened the gate at the bottom of the yard and watched them play together at the front of the block (near his parents house) while I made some mayonaise (which was AMAZING, by the way).
Once the sprogs were in bed Bean and I folded two baskets full of clean laundry then went outside to weed a bit more by the light of a headlamp. It's verrry additcive, that weeding.
It was a wonderfully productive and connecting day for us all. Once again, I'm left thinking that we should switch off & reconnect more often!
All photos by www.liamwilde.com
 ——————————————————————————————
What do you do to switch off & reconnect with yourself & people you love?
 ——————————————————————————————