This morning I was granted a little sleep in.
Bean goes to Tafe Mondays, so he doesn't have to be out the door quite as early as other weekdays. Bean got up with the sproggets today & while I lay in bed dozing, he put some Cat Stevens on the stereo, changed Moe's nappy & dressed him, left Sprout in her pyjamas at her request*, made them all some porridge for breakfast & then cleaned up. He let me know when he was almost ready to go so I could get up & do my morning ritual without any interruption because I was not the only parent at home & the sproggets had been catered for already, amazing!
Once Bean left I made a smoothie for myself & the sproggets. We sat together & drank our smoothies then the sproggets each did their own thing while I cleaned up the blender & glasses. Yes, you read that right… the sproggets each did their own thing.
Not only that though, they continued to do their own thing for quite some time after I'd finished cleaning the smoothie dishes. In that time of quiet, self directed play, I was able to do some study(!). I read (& understood) 3 pages of a chapter on the endocrine system without interruption(!!) & they were still playing when I finished.
In the end, I actually asked them to play with me. I was energised & in the mood for meaningful interaction, I was feeling able to make ammends for the times I've said,
"Not right now, I don't want to/I can't be bothered/I'm too tired/I'm too busy."
I asked Sprout what she wanted to do & she told me she'd like to play with the playdough.
"Yes!" I said, "And we can do better than just playdough… we can do playdough & coloured pop-sticks & pipe cleaners & GOOGLY EYES!"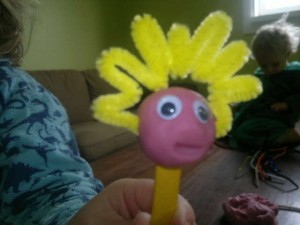 We played playdough together, on & off, all day. Interspersed with lots of scrummy snacks & more self-directed play. I'm amazed at the complete lack of input required from me today. I'm amazed at the relative harmony between Moe & Sprout, so few disagreements, so much co-operation. I'm amazed at how nicely the day flowed, both sproggets freely entertaining themselves for a whole gloriously easy day, with me even being able to get a bit of stress free reading done for college!
*Sprout stayed in her pyjamas all day, until we all went for a quick walk with Dave when Bean came home at 4pm. That's the beauty of Mondays, our only full weekday at home, we can sloth about in our jarmies all day long & still learn heaps, laugh heaps & love heaps!