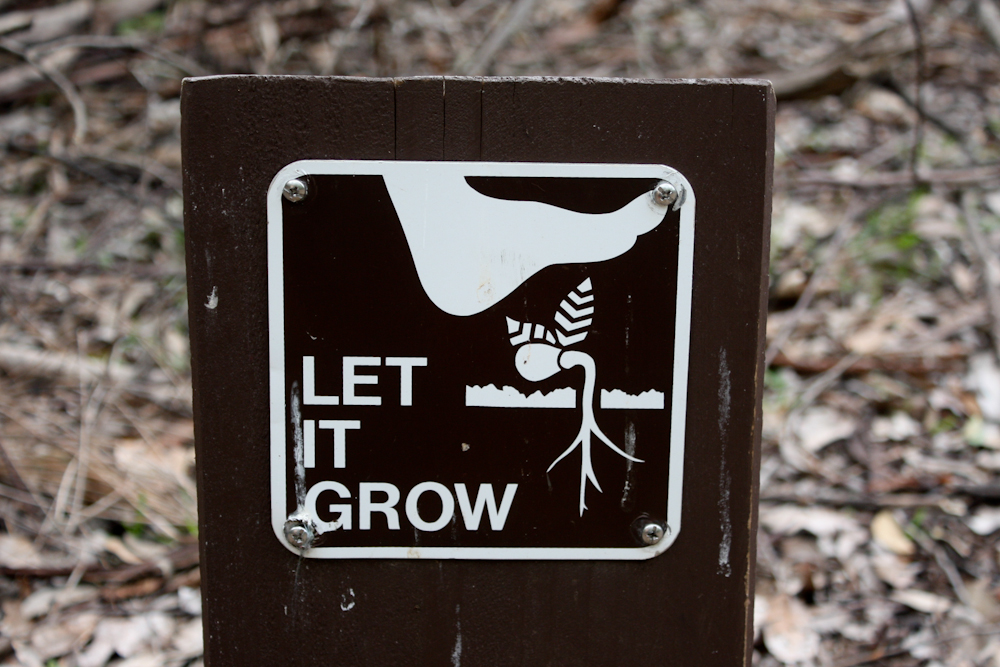 We found this sign when we went for a bushwalk yesterday. It was a quiet opportunity for more discussion about where this unschooling path is taking us.
One night last week the sproggets weren't going to sleep. Bean was getting irritated, he didn't want to devote several hours to getting the sprogs to sleep. It had been a long day at work for him, he'd been digging trenches through rock all day. We had a lot to do around the house before we could go to bed. Dishes to wash, laundry to fold, floors to vacuum & mop. If we spent time trying to get the sproggets to sleep before we started on those jobs we'd be very late to bed ourselves.
I was feeling surprisingly zen about the whole sproggets awake at 10pm thing. I put some relaxing oils in the oil vapouriser & played some of Sprout's "sleeping music" and I just got on with doing the dishes. I stopped a few times to breastfeed Moe. I massaged some calming oil into Sprout's feet at her request. I asked her if she'd like to get up. No, she was happy where she was.
Bean was still irritated. He was tired, and he had a lot to do. I told him to just do it. The world wouldn't end if the sprogs were awake while he got on with his jobs. The world wouldn't end if we told the sprogs we couldn't spend hours laying with them as they grew tired enough to sleep. The world wouldn't end if we just waited until they were tired enough to sleep. Ironically, in the past it's been him who is quick to remind me of this.
We have spent far too much time & energy getting stressed out about our children's bedtime. Too many tears (from us!). Too much frustration (from them!). That old saying, you can lead a horse to water but you can't make it drink, came up in my mind. No matter what we do, if the sprogs aren't tired, they'll not sleep. And no matter what we do, if the sprogs are tired, they'll sleep!
We've been talking about it on & off ever since, & when we were walking yesterday we talked about it a bit more, this whole unschooling thing. The trust required from us. Trust for the process. Trust for each other. Trust for the sproggets.
We're feeling more trusting of unschooling, the further into it we get. We're more aware now of the self-regulation the sproggets have been displaying all along. When I make pikelets Sprout tells me every time when she has reached her limit, it's always something like,
"I'm going to have just one more, otherwise I'll feel sick."
Recently, when Sprout had a chest cold she told me she couldn't drink milk because it made her throat "thick" & caused her to cough.
They know their bodies better than anyone. They know if they're tired enough to sleep, or hungry enough to eat. I can see outward signs that they're tired – glazed eyes, yawning, sudden ratty moods – and I can ask them if they'd like to rest, but I can't make them sleep.
I can help them wind down, with the aromatherapy & the relaxing music Sprout so loves to hear, but I can't shut their eyes for them!
I can provide regular meals, but that doesn't mean they will feel hungry when a meal is set in front of them, or that they won't feel hungry in between meals.
We have a wide range of fabulous food in our fridge & pantry, which recently Sprout has begun helping herself to, or at least being quite specific when she asks me to get her some food. Moe is also being specific, and he's is just 20 months. He can't reach the handle to the pantry door, but he can get up to the sink by using a chair so he climbed up this morning to grab a spoon then tapped on the pantry door. I opened the door & asked him to point to what he wanted. A spoonful of honey… No problem!
We've decided to be a bit more free, a bit less authoritarian, we're loosening our grip on unearned control and following their cues with regard to food & sleep. They'll rest when they're tired & eat when they're hungry.
We're not at that point with screen time (yet?). We don't have a television anyway, & don't want to bring one in to our home. We have 2 laptops, Bean takes his to work each day & I have my own. Neither of us want to give our laptops over for the sproggets to have free reign with them. We don't force them to share their toys, nor do we force ourselves to share ours! The sprogs do watch some programs on ABC iView, either alone while I do some housework or study during the day (Playschool) or with us of an evening (Spicks & Specks or similar), but they certainly don't have unlimited access to screens – mainly because we don't have unlimited screens, & a little bit because we don't see screen time as a need, like hunger or food, so it's a little harder to self-regulate. We're observing screen addiction in ourselves & not liking the affects so we're not going to open that can of worms up for the sprogs just yet. Baby steps… food & sleep for now.