Just eleven short months after we arrived back in Australia, please enjoy the story of my second day in France. You can find the story of day one here, and the prologue to the trip here.
---
Having realised on my first day in France that my nice looking coat from Australia was just that, nice looking, we went warm coat shopping after a breakfast of brioche and yoghurt at the flat. After some messing around we found a high tech convertible warm jacket/rain jacket at a sports store. It's not as nice looking as my Australian coat but being significantly warmer, 100% more rain proof and with eleventy-million secret zip compartments for valuables, it was certainly more suitable for long days walking through Paris. Importantly, it was also loose enough to fit comfortably over my favourite "Gran knit" wool jumper, another thing the Australian coat was just not up to. I was finally feeling warm and comfortable, so we began our day's adventures.
We caught the train to the Catacombs but we'd lost valuable tourist time at the warm coat shop and by the time we arrived the line stretched around the block. We decided we didn't need to see the Catacombs that much and we would try again another day. We crossed the road to head back to the train station and noticed Cafe Oz. Oh, LOL.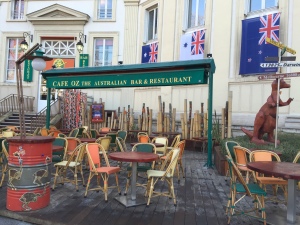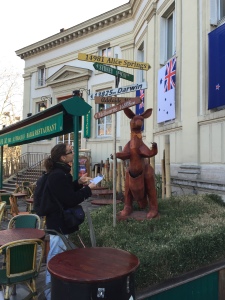 We had a chat about what we might like to do with our day now that we weren't going to see the catacombs and we decided on Musée d'Orsay so Monsieur asked a familiar looking local for directions, and then we made our way there. The lines to get in were, you guessed it, MASSIVE. We decided that since we'd failed to get to any of the popular tourist destinations very early in the morning, today was not our day for big tourist attractions in Paris, so we decided to go to Jardin des Plantes.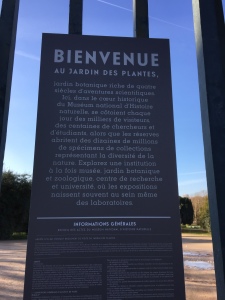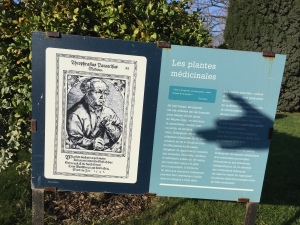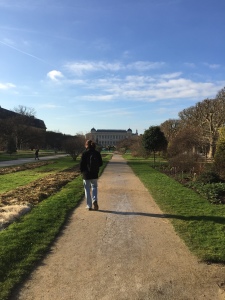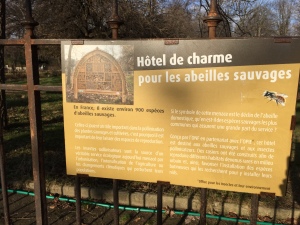 A home for wild bees (les abeilles sauvages)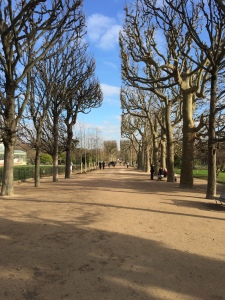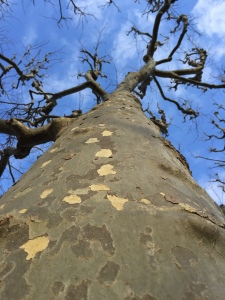 The Winter garden greenhouse (le jardin d'hiver).
We were able to see the layout of the whole site and some interesting structures but being Winter many of the garden beds were bare. I would love to see this garden in Spring or Summer.
We passed around an hour wandering the grounds, enjoying the clear blue skies and deliciously crisp fresh air, we decided to have a look at The Grand Gallery of Evolution at Muséum National D'historie Naturelle. Their huge collection of taxidermied animals was, in a word, incredible.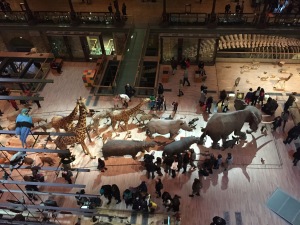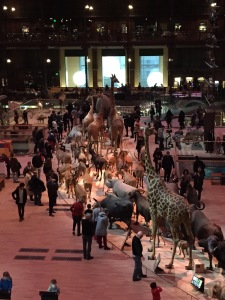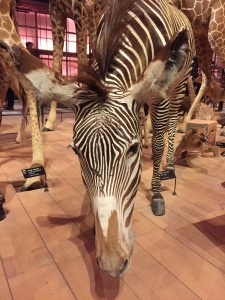 The models of undersea creatures on the ground floor was interesting, and entertaining…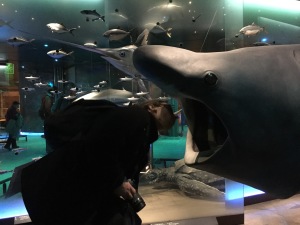 After a couple of hours in the museum, during which I surprised myself with how much I could understand of the French written on signs next to displays (understanding written French is apparently a lot easier for me than either understanding spoken French, or speaking it myself!), we left the museum and the garden to continue walking some more streets of Paris.
Monsieur wanted to look inside Cathédrale Notre Dame, where we had been the night before, so we headed in that direction.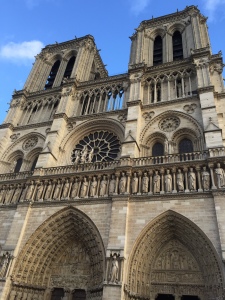 Once again the line was enormously long and we elected not to join it. Who were all these people and why were they on holidays between Christmas and New Year's Eve?!
I am not a particularly competitive person usually but, for whatever reason, every time Monsieur and I were at the top or bottom of a flight of stairs (there are a lot of stairs in Paris), we would begin the descent or climb romantically, Parisian-ly arm in arm but finish it racing to be the first to reach the end. During one of these horribly immature not-racing-races I hurt my knee and it was at about this time that I realised that my good looking boots were also about as useful as my good looking coat had been when it came to walking up and down the streets, and steps, of Paris.
As the day ended exhaustion hit me, I had hit the ground running when I landed in Paris and after two days of walking, wide eyed wonder and mind stretching new experiences I was ready to shift down a gear. We made our way back to the flat where we had takeaway from a slightly dodgy kebab place over the road and retired fairly early. The next day would be New Year's Eve and we had big plans to begin our day very early and end it very late…